Improving mental maths skills with Studyzone

Is there a link between questions answered on Studyzone and mental maths scores?
I love statistics. I'm always poring over gap analysis spreadsheets, average marks and percentage increases. Recently I was struck by the massive improvement that a boy in year 6 had made in his mental maths scores; a key area in the forthcoming Key Stage 2 SATs tests. I decided to dig a little deeper to see what I could find.
It was immediately apparent that he had really got stuck in to Studyzone games. He'd gone from answering a handful of questions each week, to hundreds. Could this have played a part? Well, yes, massively. Knowing his teacher, I know quality first teaching has had a huge impact, but this has certainly been consolidated by Studyzone activities.
I decided to plot a graph - this is what I like to do if I think there's a link. Here's what I plotted:
Mental Maths score out of 20 (blue bars)
Questions answered each week on Studyzone (green line)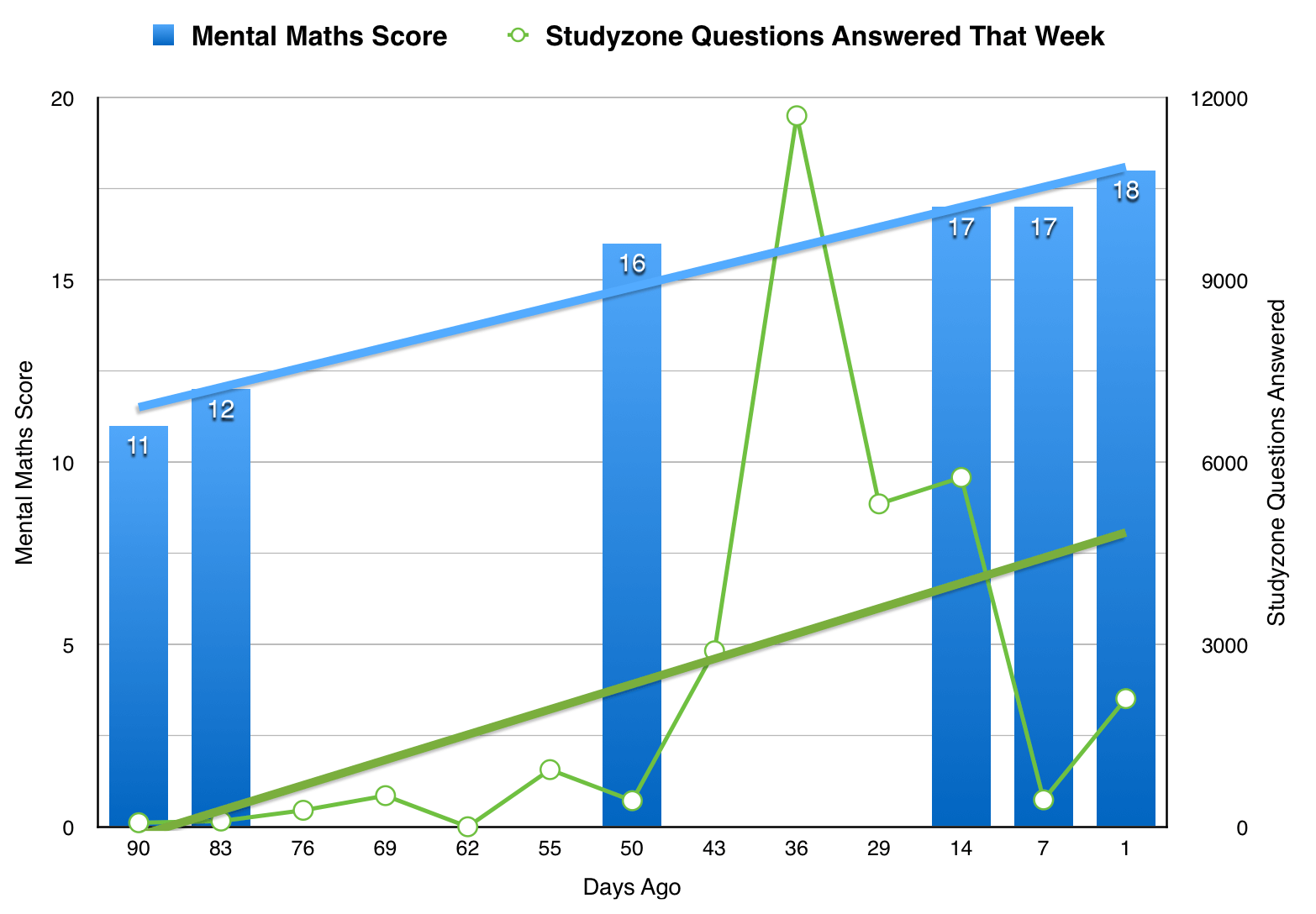 By adding the trend lines I was immediately struck at how clear the correlation was. Granted it's a small sample, but it does suggest that the more active students are on Studyzone, the more they can improve and develop their mental maths skills.
With just over 2 weeks to go until the Key Stage 2 SATs is it too late? I would argue no. Get your students incentivised to logon and play as many mental mental maths games as possible - it really can make a difference.
And where should they start? Well I thought I'd take a look at how many questions the boy in year 6 had answered on different games. These are listed below. I'd say he's made pretty wise choices!
| | | |
| --- | --- | --- |
| Times Tables activities | 38,271 questions | Open Activities |
| Number bond activities | 2,260 questions | Open Activities |
| Doubling and Halving activities | 1,350 questions | |
| Multiply and Dividing by 10 and 100 activities | 692 questions | Open Activities |